Your First Stop in Mind for EV Charging Products & Solutions Needs
Electric Vehicles Are The Future
Global EVs are predicted to make up two thirds of all road vehicles by 2050, per Bloomberg. Figures from the Singapore Land Transport Authority (LTA) show the number of EV registrations have risen in first half of 2021.  This is aligned with the global transition trend.
Singapore is aiming to phase out Internal Combustion Engine (ICE) vehicles and have all vehicles run on cleaner energy by 2040. More government initiatives have rolled out to increase EV adoption. LTA launched the Electric Vehicle Common Charger Grant (ECCG) to encourage the installation of shared Electric Vehicle (EV) chargers in non-landed private residences (NLPRs), such as condominiums and private apartments.
EV charging stations are becoming the essential infrastructure required in building facilities. How ready are your facilities to adopt this new future?
2025
Cease new diesel car & taxi regulations.
2030
Progressively make all of town EV Ready. 60,000 EV charging points across Singapore.
2040
Phase out Internal Combustion Engine (ICE) vehicles. All vehicles run on cleaner energy.
How We Can Help To Take Your Facilities To A New Heights
EVC Supply
We supply the best value electric vehicle chargers (EVC) from reliable partners to ensure safe and smooth charging experience.
EVC Installation
We offer EVC installation services by Licensed Electrical Worker (LEW) to ensure the charging infrastructure is aligned with Singapore rules and regulations.
Maintenance Service
Support doesn't end at installation. We provide after-sales maintenance services to help your EVC system run in a well-ordered fashion.
Charging Software
We provide the complete suite of Electric Vehicle Charging (EVC) infrastructure which includes charging management systems and secured payment gateway solution.
Electrical Vehicle Chargers (EVC) Installations in Singapore
Warehouse
One warehouse in West Singapore installed ABB's Terra AC Wallbox EV chargers to provide charging services to their employees and visitors within their property.
Industrial
Terra AC Wallboxes have been installed in the carpark of an Industrial Building in East Singapore to provide charging services to their tenants.
Commercial
Customised printing on EV Chargers for branding purposes offer unlimited aesthetic. AC wallboxes are installed in outdoor carparks for customer and employee usage.
Residential
The best value home chargers with Bluetooth and WiFi capabilities are installed in multiple landed properties. The convenience of Bluetooth connection brings a seamless experience to the user.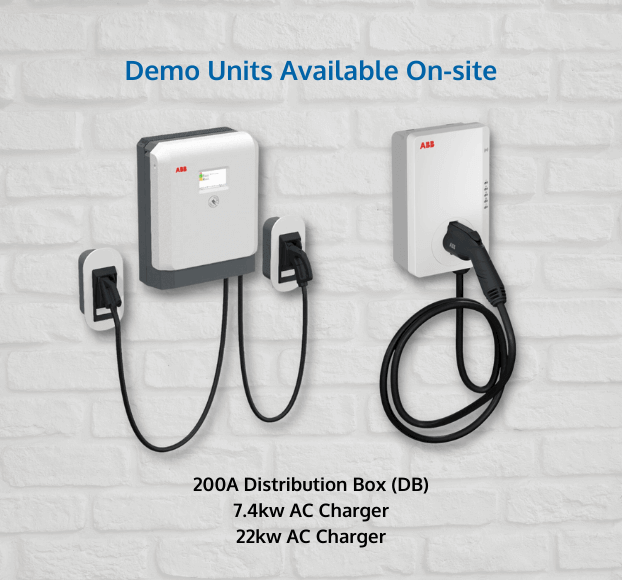 EVC Demo Station
Come visit our AC & DC Wallbox Chargers at the Lim Kim Hai Electric building at Kallang 339 177. Schedule an appointment with us for a demo session today!
Make an Appointment
From private homes to multi-tenant homes and residential communities
Hotels & hospitality sports institutions, shopping centers, commercial fleets, public or private campus, parking structures, car dealerships, race tracks
From small offices to large offices, industrial site, business parks and complexes
Street car park, bus depots, utility, sensitive grid applications
Relevant Electric Vehicle Charger Topics
What are the Incentives of getting Electric Vehicles?
In encouraging the adoption of EVs, the government has launched the EV Early Adoption Incentive from the period of 1 January 2021 to 31 December 2023.
Owners who register fully electric cars will receive a rebate of 45% off the Additional Registration Fees (ARF), with a cap at $20,000. This scheme will apply to both individual and fleet vehicle owners, such as taxi and car rental companies.
Additional Registration Fee (ARF) for electric cars will be lowered from $5,000 to zero from January 2022 to December 2023.
Source: LTA
What are the different types of Electric Vehicles?
We can distinguish numerous parameters based on which we will systemise electrical vehicles. Based on the possibility of external charging, the fundamental criterion is to define whether the vehicle be charged externally.
Hybrid – a combination of a combustion and electric engine which does not allow for charging of the battery using EV charges.
PHEV (Plug-in Hybrid Electric Vehicle) – this is a hybrid of a combustion and electric engine which can also have its battery charged from a power socket. Most PHEV vehicles can only be charged using AC current electricity. There are however vehicles (e.g. Mitsubishi Outlander), which can be charged using electricity with either an AC or DC current.
BEV / BOEV (Battery Electric Vehicle / Battery Only Electric Vehicle) – vehicles only with an electric drive. All BEV vehicles can be charged from a power socket with an AC or DC current.
What types of connectors and sockets in chargers and electric vehicles are there?
In the case of AC chargers: Type 2.
In the case of DC chargers:  CCS – Combo T2.or CHAdeMO as alternative.
What kind of electrical connection is required to supply a charging station?
The power of the connection depends on the power of the charger. In the case of an AC charging station, it is between 7kW and 22kW.
Why do I need a charger at home since my vehicle has an onboard charger?
An on-board charger as a mobile solution allows you to top-up your charge while you are on the road. Charging stations at home guarantee that your vehicle will always be fully charged when you are leaving home.
Dedicated home chargers also have the advantage over public charging points in that they are always and only at your disposal. There is no risk that arriving at a charging station, you will find that the terminal available is broken or is currently being serviced.
A private home charger is also entirely adjusted to your vehicle. There is no risk of non-conformity of standards between sockets in the terminal and your vehicle.